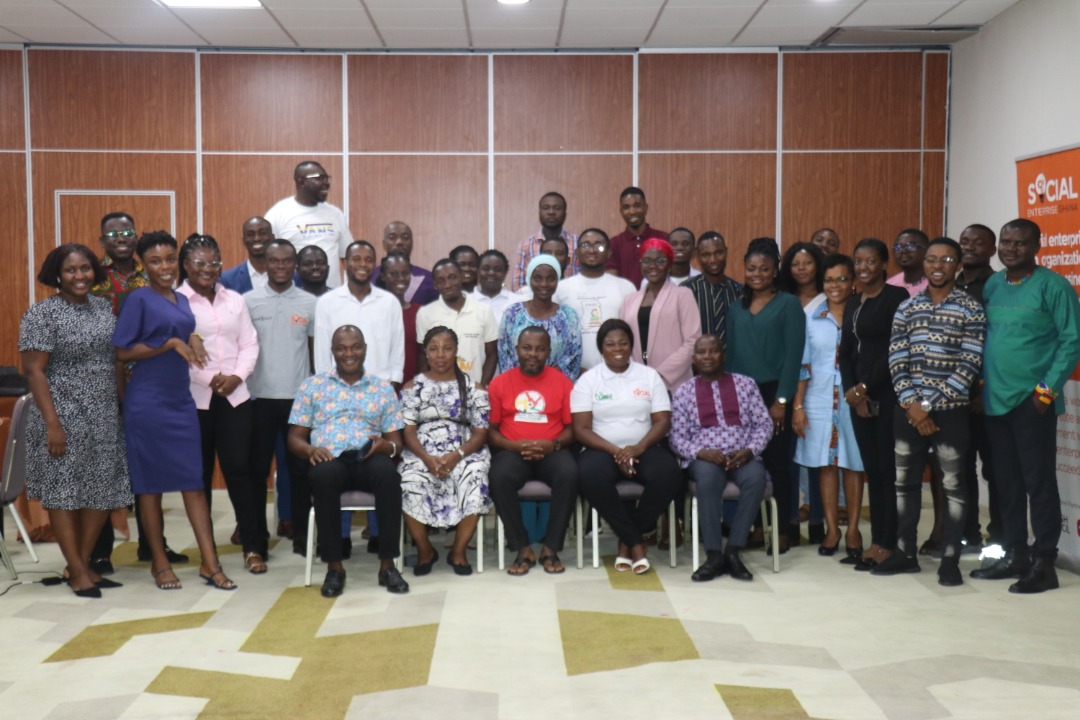 EU-funded GrEEn project and Social Enterprise Ghana partner to train green economy centers
SNV Netherlands Development Organization's Boosting Green Employment and Enterprise Opportunities in Ghana (GrEEn) project has partnered with Social Enterprise Ghana to train 32 hub managers and business support organizations across the country.
This is to enable them to support start-ups and Micro, Small and Medium Enterprises (MSMEs) in the green and circular economy.
The two-day train-the-trainer workshop, which took place at the Volta Serene Hotel in Ho in the Volta Region, was moderated by Dr. Boniface Yeboah Antwi of the Council for Scientific and Industrial Research (CSIR -Accra).
The training covered various topics including green business models, green product development, green product marketing and green finance, which aims to enable hubs and business support organizations to understand the green and circular economy. and how they can help their portfolio companies improve. their environmental impact.
Edwin Zu-Cudjoe, Executive Director of Social Enterprise Ghana, says the training is important as it promotes and builds the skills of business support centers and institutions and positions them to help businesses promote environmentally friendly operations and the transition to the green sector.
Mr. Zu-Cudjoe also reiterated the need for a concerted effort by all stakeholders to mitigate and address climate change issues.
Genevieve Parker-Twum, Senior Incubation and Acceleration Advisor at SNV Ghana for the GrEEn project, applauded the efforts of the Government of Ghana to promote green jobs and businesses.
"SNV Ghana, as a development organization, has worked with the Ministry of Employment and Labor Relations to finalize and implement the National Green Jobs Strategy and we believe that the formation of centers that incubate and accelerate start-ups and businesses is a priority if we want to see the transition from a linear to a circular economy.
"The effects of climate change are getting worse and with funding from the European Union, SNV is working with a number of key players such as Social Enterprise Ghana.
"The training has been beneficial for my MHub as we will be instilling green practices in our hub. A timely initiative to enable us to create more green and circular activities to achieve UN SDG 13 on climate action and to train women and youth in the communities," said Catherine Boafo, CEO of Mawutwueni Ghana Ltd.
Social Enterprise Ghana is the national network of high impact businesses and social centers in Ghana.
Social Enterprise Ghana currently has 840 social enterprises operating in various sectors of climate-smart agribusiness, green and circular economy, WASH, health services, inclusive financial services, TVET and education.
SE Ghana advocates for business-friendly policies for social enterprises and supports its members with training, research, access to skills, market access, access to technology and access to finance .
Social Enterprise Ghana aims to increase funding for social enterprises by catalyzing $1 billion for social enterprises in Ghana by 2030.
SNV is an international non-profit development organization that makes a lasting difference in the lives of people living in poverty by helping them to increase their incomes and access basic services. SNV has been present in Ghana since 1992 and focuses on three sectors: agriculture, energy and WASH (Water, Sanitation and Hygiene).
GrEEn is implemented under the European Union Emergency Trust Fund (EUTF) for Africa, with funding of EUR 20,000,000 from the EU and co-funding of EUR 600,000 from SNV and from UNCDF.
The project is co-implemented by SNV Ghana and UNCDF in partnership with the Ministry of Local Government, Decentralization and Rural Development.