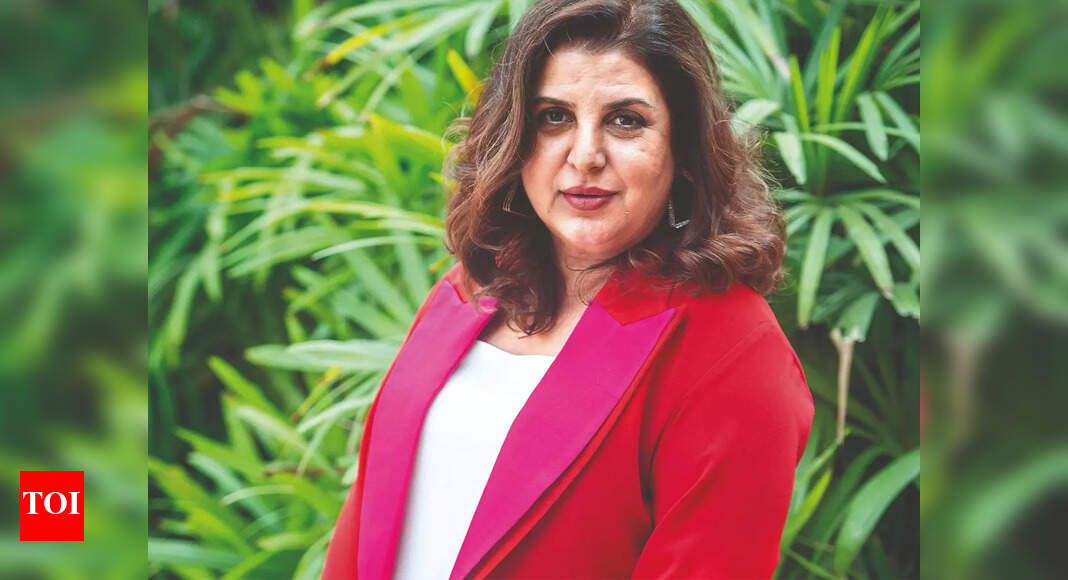 Farah Khan: I've learned to never regret anything and I'll stick with it | Hindi Movie News
Even after being in the business for 30 long years, some things about Farah Khan remain unchanged – her sense of humor and the compelling need to entertain people. The director, now occasional choreographer, TV presenter-judge and mother of three is in no mood to slow down. In fact, she can't wait to get going, and if all goes according to plan, she'll be launching her next directorial venture by the end of this year. In a chat with BT, she talked about her kal, aaj aur kal with her wit and candor. Excerpts:
You recently passed the milestone of 30 years in your career. What does it do?
When I started, I would have been happy to work for only three years. Who would have thought that I would reach 30 and continue to work beyond! We are grateful for what we have. We were poor; my father had died with `30 in his pocket. Initially, my dream was to get Rs 10,000 a song and in a month, make Rs 30,000. We have so much more than we dreamed of. And crossing the three-decade mark is not a sign of retirement. Image abhi baaki hai! When I started, I was the only female member of the team apart from the hairdressers. I have a photo of Jo Jeeta Wahi Sikander's sets where there were 60 guys and me. Today, the ratio is almost 50-50. This says a lot about the transition over the past three decades.
What else do you think has changed? And is there something, in your opinion, that always remains the same?
A lot! Every time a new actor or actress appears on the scene, they think they are! Peeche dekhte hi nahi hain, ki tumse pehle kitne aaye aur gaye. The truth is that they are not 'it', no one is! They weren't the ones who invented cinema, although every new person who comes on the scene talks about changing the course of cinema and reinventing it. Every time they say something like that, I'm like, "I've seen this cycle so many times…." I'm lucky to continue to be relevant and have credible work even now. I'm still here and hope to be there for the next 30 years.

Why did you stop making films after Happy New Year (2014)?
I'm in a comfort zone today. I haven't done a movie for a few years, but I've been busy, whether it's doing shows, acting in commercials or directing commercials. I have found my own work area where I am comfortable and always as busy as I want. I wanted to spend time with my children. And yet, despite a bit of a slowdown, the only time we really relaxed was during confinement. As soon as it was over, I went back to work. It's a strange cycle. You want to be happy and content, and when you are, you also feel guilty for not working. I do not accept 75% of the work offered to me. I take something when it excites me. Today, and even when I was struggling, money was never the only criterion for accepting a job. I was selective from the start about which songs and who I would work with. I remember one of the main reasons I worked on Jalwa (1987) was that we were being flown to Goa and up until then I had never traveled on an airplane. I danced behind Archana Puran Singh and was paid 300 rupees a day at that time.
As a woman in the film industry, turning down offers, especially in those days, must have been tough, right?
I don't think anyone saw me as a woman in the industry (laughs!) I think everyone saw me as one of the guys. More seriously, sometimes I wonder ki kyun mana kiya maine. But I was also very possessive of the work I was doing. I have worked with many good directors and it has only improved my craft with each song. I'm also someone who's worked with 40-50 new directors – from Aditya Chopra, Karan Johar, Farhan Akhtar, Sajid Khan and Sanjay Gupta to Nikkhil Advani and Mukesh Chhabra. There are so many to name. My equation with everyone remained unchanged. In fact, I became a character for them. On set, they expect me to say something and expect me to get angry or be bugged at some point. The thing is, they love me and that's what I've won in a big way. I won their friendships. There is value to the work I do for any film. My sense of humor is a trope. These days I create really crazy reels because I have to entertain; it's in the DNA. And I have to do it differently. As for my equation, it has been good even with those with whom I have fought for various reasons. At a certain age, you are impetuous and you take everything seriously. But there can be no permanent animosities. You bump into someone, you hug and you're done. Salman Khan, Ajay Devgn, Karan Johar, Shah Rukh Khan… we all had our fights and we made up too.
Maintaining personal relationships in this business can be a daunting task. How did you manage to maintain your equation with everyone?
We all grew up together and worked together. We will always have this shared experience and these common memories of having been through so much in our lives. Plus, I'm young at heart and get along with most people. Today I also have a circle of younger friends, which includes Anil Kapoor, Rajkummar Rao, Patralekhaa and Huma Qureshi.

You've had a long career, and when that happens, a sense of complacency can set in. How did you avoid this?
I just shot a shot in Croatia. I went there a few days before filming, finished recce, created a shot breakdown, and worked with the stylist and director. In 30 years, that has not changed. If you are satisfied with the quality of your work, it is the end of the road for you. Also, I hate asking for favors; it is a trait of childhood. A lot of people owe me money because of that. I made so many songs for free. But yes, I also feel that everything comes back to me in the form of blessings. I have never worked for money. I did some music videos when I needed to buy a house, but you can ask my producers. In some cases, I even signed my contracts after the film was released. Thus, the motivation to work must be something other than money. You will always find a way to make money, but that can't be the only reason to work. Money will make you do all sorts of things, some of which you won't like. My thinking stems from the experiences my brother Sajid and I had as children. We always had to ask for things. I had seen my father, he hated asking for udhar. My mother sold her jewelry to pay our school fees. Farhan and Zoya Akhtar, Aunts Honey and Daisy had kept us in their home for about four-five years, and they were very nice to us, but we had to ask them things. We were literally those poor cousins. Today, I owe them a lot. I know how far we've come and I appreciate it. And yet, I don't like to ask for money. Pamper me, treat me well, and I'll always be on your team. Anyone can take me for a ride. I have to be careful (laughs!).
While you have hits like Main Hoon Na, Om Shanti Om, and Happy New Year, there have also been lows. How did this phase of your career unfold and how do you think it affected you?
I still remember how Tees Maar Khan was ripped apart and although people said a lot about it, the movie made money. I have been a fighter and a survivor. After Tees Maar Khan, I didn't want to go out, even though I won a prize for the choreography of Sheila Ki Jawani. My mother-in-law encouraged me to go there. So, over time and ups and downs, I grew and gained wisdom, and had children. Everything changed over time. Today I realized that everything that is yours will come to you. I am no longer insecure. I was that person, and I hate that feeling today. Of course, as human nature would have it, often people are happy when someone's film isn't doing well; it is a trait of the industry and uska kya kar sakte hain. Today, I know that my film will be made when and with whom it is intended.
What do your next few years in the business look like?
I will make movies. I had the best job. I got paid well for it. I liked to receive people. I'm sure there were more talented people than me, but I feel lucky to have had so many opportunities and I worked hard. I learned never to regret anything and I will stick to it. And also the wish that when I was young, thin and sexy, I should have also tried to be wilder…