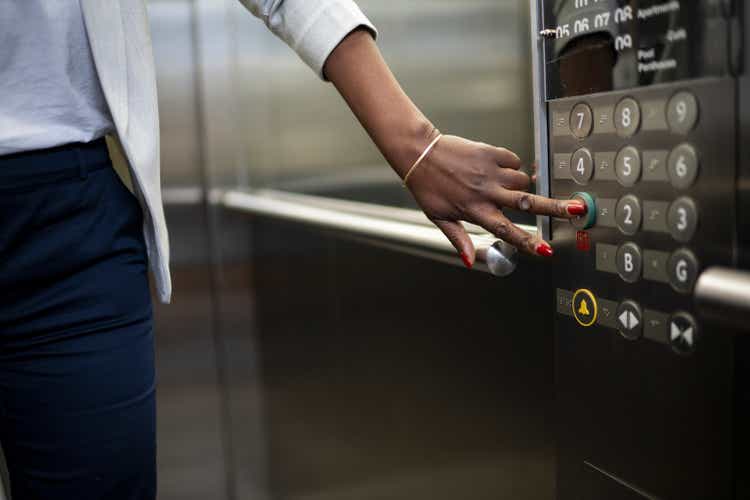 Otis Global Stock: Stocks Approach Inflection Point (NYSE: OTIS)
Very few things excite me more than finding unique companies that might offer great investment opportunities. The more unique the business, the more intrigued I am about how it generates revenue and its benefits potential, if any, could be. An undeniably interesting company is Otis in the world (NYSE: OTIS). This company is the world's leading manufacturer, installer and service provider of elevators and escalators. In the long term, I suspect the business will do just fine. Unfortunately, it doesn't seem to offer any real benefit at the moment. Recent fundamental performance has been disappointing and management has lowered its expectations for the current year. If the company's shares were trading cheap, this might be something we might overlook. But given the current stock price, the company appears to be, at best, fairly valued. And if the stock rises much further from that point, I think an argument could be made that it is overvalued. For now, I have decided to keep my "hold" rating on the company, with my opinion on its potential negative development.
Disappointment
In April of this year, I wrote an article on the investment value of Otis Worldwide. While I was intrigued by the company's business model and asserted that its financial position was strong, I also acknowledged that it did not offer investors significant growth potential. Ultimately, given the stock price, I concluded that the stock was more or less fairly priced, suggesting that its returns would likely match the broader market going forward. Since then, the company has far exceeded my expectations. While the S&P 500 is down 3.1%, shares of Otis Worldwide have returned investors 4.8%.

Given this disparity in returns, you might at first think the company is doing pretty well. Unfortunately, that's not exactly the case. Consider, for example, the company's revenue chart for its last quarter. This is the second quarter of its fiscal year 2022, the only quarter for which we now have data for which we had no data when I last wrote about it. Sales for this quarter were $3.49 billion. This is 5.8% less than the $3.70 billion generated in the same quarter last year.
Several factors contributed to this year-over-year decline. For example, the company was hit 1% by the shutdown of operations in Russia. This was only slightly offset by a 0.1% increase caused by acquisitions and divestitures on a net basis. The real big pain, however, came from the foreign currency conversion, which hit the business 5.3%. On the other hand, the company's organic revenue wasn't great, adding 0.4% to the company's revenue. Management attributed the increase in organic revenue to a 5.2% increase in its offerings services category. In contrast, organic sales of new equipment fell 5%. As you can see in the chart below, the weakness in the second quarter helped to lower the company's revenue for the first half of the year as a whole compared to what it was in the same period. last year.

This decline in turnover was accompanied by a weakening of profitability. Net income fell only slightly, from $326 million in the second quarter of 2021 to $321 million in the same period this year. The main reason why profitability did not decline further is related to selling, general and administrative expenses which fell from 13.1% of sales to 12.6%. Management attributed this to cost containment measures, other employment-related reductions, lower reserves for credit losses and exchange rate fluctuations. Unfortunately, these improvements were somewhat offset by annual salary increases and increased restructuring costs, the latter of which increased by 50% from $26 million to $39 million. Other profitability measures were mixed but generally negative. For example, operating cash flow plunged from $533 million to $353 million. But if we adjust for changes in working capital, it would have gone from $408 million to $418 million. During the same period, however, the company's EBITDA fell from $621 million to $581 million.
As a result of these changes, management ended up lowering its expectations for the current year. When I last wrote about the company in April, management said revenue for 2022 would be between $14.1 billion and $14.3 billion. This figure has now been revised to between $13.6 billion and $13.8 billion. Organic revenue is now expected to grow 2.5% to 3.5% compared to the 3% to 4% range expected at the end of the first quarter. Perhaps the only bright spot here is organic service revenue. Previously, management thought this would increase by 5-6%. Now, it is expected to increase by 5.5% to 6.5%. Earnings per share, meanwhile, are now expected to be between $3.17 and $3.21. Previously, management thought they would be between $3.22 and $3.27. Based on current expectations, net income should total approximately $1.35 billion. No indication was given regarding cash flow from operations. We only have an estimate of free cash flow, but without a real indication of capital expenditures, it is useless. If we assume that the change in net income this year should match the change we should see in adjusted operating cash flow, then the latter measure should be $1.73 billion for the year. Meanwhile, EBITDA is expected to total $2.55 billion.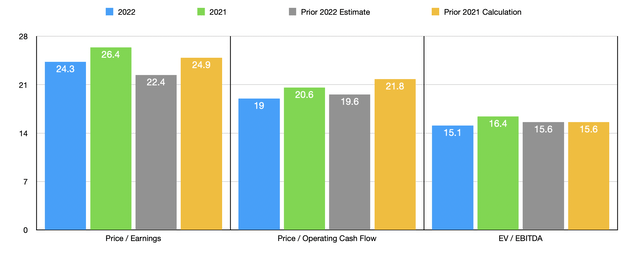 Based on these numbers, we can see how stocks are priced today. On a price/earnings basis, the company, looking at futures multiples, should be trading at a multiple of 24.3. This is down from the 26.4 reading we get using 2021 results. The price of the adjusted operating cash flow multiple of 19 is expected to be down from the weekend reading from 20.6 using 2021 numbers. And the company's EV to EBITDA multiple is expected to drop from 16.4 to 15.1. As you can see from the chart above, the company's pricing on a forward-looking basis isn't all that different from what it was when I last wrote about the company. As part of my analysis, I also compared the company to the same five companies I compared it to last time. On a price-earnings basis, these companies ranged from a low of 5.8 to a high of 67.1. Using the price/operating cash flow approach, the range is between 7.5 and 21.9. And using the EV to EBITDA approach, the range should be 4.2 to 18.8. In all three scenarios, four of the five companies are cheaper than Otis Worldwide.
| | | | |
| --- | --- | --- | --- |
| Company | Prizes / Earnings | Price / Operating Cash | EV / EBITDA |
| Otis in the world | 24.3 | 19.0 | 15.1 |
| Mueller Industries (MLI) | 5.8 | 7.5 | 4.2 |
| Parker-Hannifin (PH) | 17.2 | 13.8 | 13.3 |
| Standex International (SXI) | 14.7 | 15.1 | 9.4 |
| Evoque Water Technologies (AQUA) | 67.1 | 21.9 | 18.8 |
| Snap-on Inc. (SNA) | 14.0 | 13.1 | 9.8 |
Carry
Over the long term, I am confident that Otis Worldwide will do well for itself and for its shareholders. But the company's stock looks pretty priced at best right now. I think it could even be argued, maybe, that the company is overvalued or awfully close to it. Normally, the company's pricing can be justified due to its quality and operator. But given the recent decline in profitability and revenue, it's clear that the short-term outlook for shareholders will not be good. Given the price of this stock today and these recent declines, I'm on the verge of downgrading it to a "sell", but I'm not there yet.