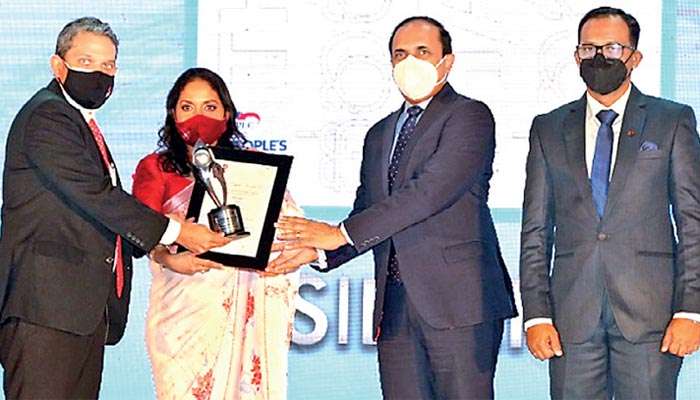 People's Leasing wins silver at the 56th CA Sri Lanka Annual Report Awards
'56th CA Sri Lanka Annual Report Awards – 2021′ Silver Award in Finance Companies and Leasing Companies Sector (Total Assets over Rs 20 Billion) presented to Managing Director/Managing Director Shamindra Marcelline by Managing Director of CA Sri Lanka Dulani Fernando, CSE Managing Director Rajeeva Bandaranaike and Annual Report Awards Committee Chair Chaaminda Kumarasiri
---
People's Leasing and Finance PLC, the financial solutions provider in the Non-Banking Financial Institutions (NBFI) sector, has won a prestigious award at the 56th CA Sri Lanka Annual Report Awards organized by the Institute of Chartered Accountants of Sri Lanka (CA Sri Lanka).
The company's 2020/21 Annual Report was awarded the Silver Award in the Finance Companies and Leasing Companies Sector (total assets over Rs 20 billion). The Annual Report Awards competition is organized by CA Sri Lanka and is recognized as one of the country's most prestigious and longest running corporate events among various business sectors. This year's edition saw a slew of applicants, ranging from conglomerates and multinationals to small and medium-sized enterprises, vying for the coveted recognition.
The continued recognition received locally and internationally for the annual report reflects the company's efforts to maintain transparency, accountability and social responsibility in financial reporting. This year's award is further evidence of the Society's commitment to emulating the standards achieved in these areas. The 2020/21 Annual Report is People's Leasing's eighth integrated report on the theme "Thank you. ස්තුතියි. நன்றி. which pays tribute to all the company's stakeholders who have been an integral part of the organization during its last 25 years of journey whose unwavering support and trust in the company has been the springboard to ascension towards the top.
People's Leasing and Finance PLC has weathered a year of unprecedented customer concessions and converging challenges to record the highest profit in the Group's history of Rs. 5,596.33 million for the financial year ended 31 March 2021. From the start of the pandemic, customers needed cash and People's Leasing remained open throughout the period to provide the same. With the government's announcement of the moratorium, People's Leasing began processing qualifying facilities, extending the benefit to customers and for those who were not eligible for the moratoriums, they were given the option to restructure their facilities to suit their repayment capacity. In addition, default interest has been waived for a period of nine months, further relieving customers.
CEO and Managing Director Shamindra Marcelline said, "PLC's annual report has been recognized time and time again, both locally and internationally. It highlights our financial stability, our corporate structure, our good governance, our CSR initiatives, our strategic direction and our vision". He added, "This recognition from CA Sri Lanka is an endorsement of PLC's reporting and communication capabilities and good governance.