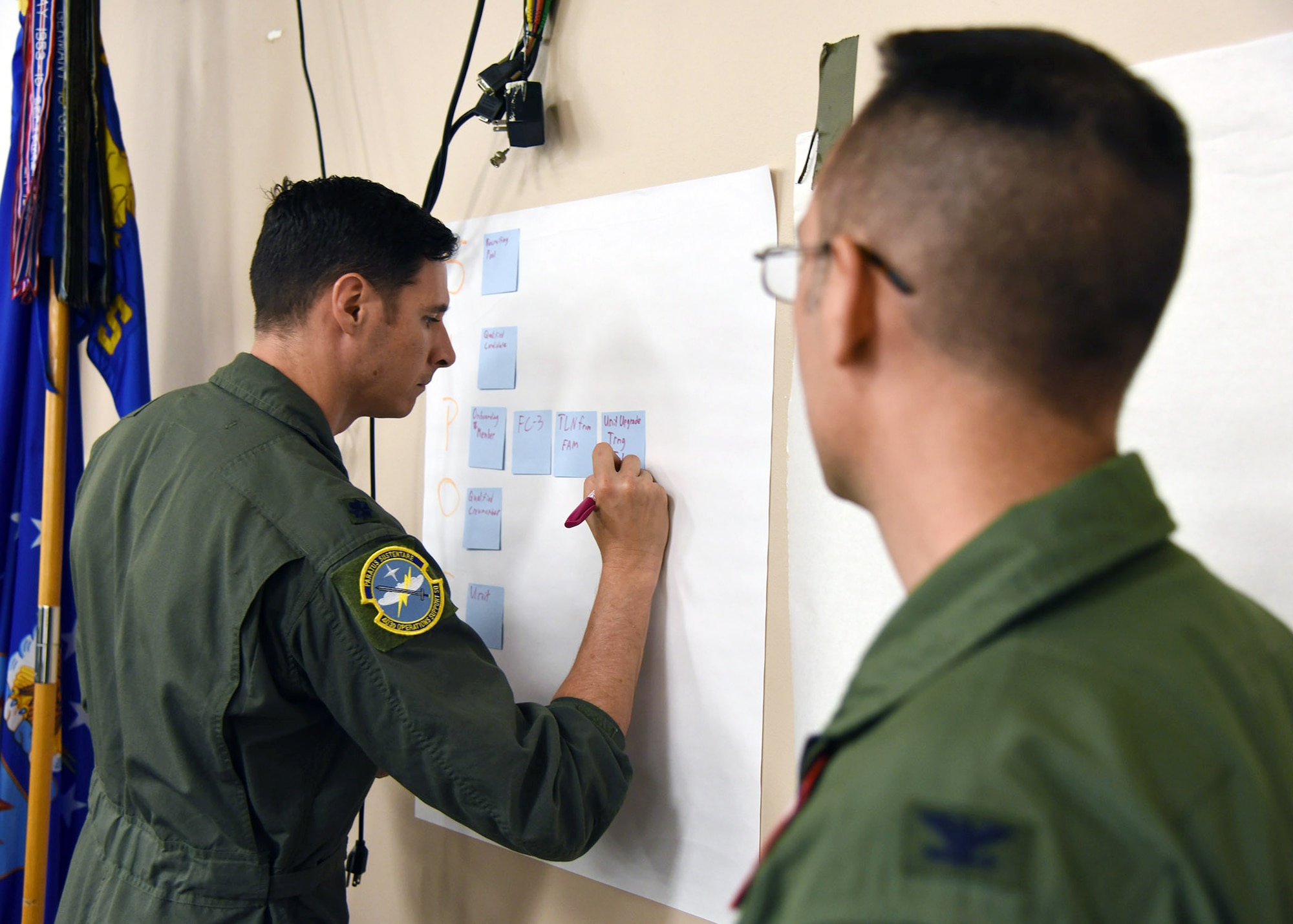 Reform the Organization > Air Force Reserve Command > Feature Article



Change is inevitable. Change is uncertain. Change can be uncomfortable. However, it is often necessary because the risks of complacency are too great.


Lieutenant General Richard Scobee, Chief of the Air Force Reserve



(Editor's Note: In 2018, Lt. Gen. Richard Scobee, Chief of the Air Force Reserve and Commander of the Air Force Reserve Command, Master Sgt. Chief Timothy White, Scobee's Senior Enlisted Advisor and AFRC Command Chief Master Sgt, and their command team established three strategic priorities: Prioritize Strategic Depth and Accelerate Readiness, Build Resilient Leaders, and Reform the organization. These priorities were designed to ensure that the Air Force Reserve was ready to meet the challenges set out in the National Defense Strategy. These priorities were visionary in that they intertwined almost seamlessly with the initiatives of the Air Force Chief of Staff Gen. CQ Brown, Jr.'s Accelerate Change or Lose It All by Predating It Two Years Many of these efforts are just beginning to show results at unit level, with more visible results. results on the way. These priorities serve the dual purpose of making the Air Force Reserve more lethal and ready, while improving the lives of Airmen. In the issue of Citizen Airman, we dive deep into each of the strategic priorities, highlighting how implementing these priorities has made a difference for Reserve Citizen Airmen.)
When Air Force Chief of Staff General CQ Brown, Jr. issued his Accelerate Change or Lose directive, one of his action orders called for a change in "decision-making processes for make timely decisions based on analysis to stay ahead of key competitors' decision cycles. The Air Force Reserve was at the forefront of accelerating change by prioritizing organizational reform to improve the speed and accuracy of decision-making two years before the release of Brown's groundbreaking article.

We started this journey for three reasons. Adapting to strategic competition requires agility. Maintaining readiness with limited resources requires accurate information to govern resource allocation. And, to recruit and retain the best possible Reserve Citizen Airmen, we must identify and remove the institutional barriers that impede their success.
This has not been an easy task as the information technology systems that underpin our daily operations reflect a Cold War-era bureaucracy with a total force of nearly one million Airmen. The stark reality is that our information technology systems are optimized for a long-gone era, resulting in inadequate decision cycle speed and struggling to adapt to more nimble adversaries.
Organizational reform aims to increase this speed of decision-making by removing institutional barriers and revamping the way we use data in almost every aspect of our mission. Rethinking, updating and providing easily accessible and actionable information is the driving vision.
The current systems governing our personnel and compensation processes are outdated and in need of reform. For example, when a traditional reservist or individual mobilization augmentation moves for their civilian career, finding reserve employment in a new unit can be frustrating at best. This issue can be caused by inaccurate or outdated Reserve vacancy data, resulting in redundant local tracking at the unit level.
In addition, the systems governing our company's finances are cumbersome and slow decision cycles. For example, at the start of each fiscal year, it can take up to six weeks to properly establish the command's financial position and distribute Reserve Personnel Appropriation funds to units. The lag in this decision sequence causes unpredictability in the lives of Citizen Reserve Airmen, as delays in funding cause delays in reducing orders.

Financial uncertainty at the corporate level also makes it more difficult to resolve issues such as our basic military training backlog of 1,700 people. Additionally, this blind spot contributes to us only using 10% of our inactive duty training travel budget.
Compounding these problems, much of the data needed to run a unit is stored in a patchwork of systems owned by different entities. This problem becomes apparent when new leadership enters a squadron. One of their first tasks is to access the data necessary for the operation of the squadron, that is to say to access no less than 13 information systems.
We recognized each of these pain points, along with several others caused by our outdated ways of working, and committed to fundamentally disrupting the status quo to make command work better. Over the past two years, Brig. Gen. William Kountz, the AFRC's director of logistics, engineering and force protection, was the team's champion, providing guidance to a cross-functional team of experts.
The shared data environment
As the Air Force Reserve continues to migrate to a digital environment, the volume and variety of data increases. The first priority was to develop a shared data environment integrating a wide range of siled systems. The SDE compiles data from more than 100 unique information systems containing financial, medical readiness, personnel, training, logistics, maintenance and deployment information.
Before the data was integrated into the SDE, our data scientists organized the data to ensure that it was usable by business intelligence tools for end users. The developers then built BI tools to analyze the data in collaboration with end users. These tools will be shared as part of the Business Suite app store, which allows users across the Air Force Reserve to analyze data from their respective units.
business intelligence applications
One of the first BI applications in development is the Finance BI tool. Our financial systems are obscure to those without a background in financial management or resource consulting. The Finance BI tool provides executives with an overview of their budgets on an intuitive dashboard with just 24 hours of latency.

Instead of having to connect to one system for RPA finance data and another for O&M data, the Finance BI tool will merge the data and display it on an intuitive dashboard. Moving to a simplified financial data user interface is like pushing towards a seamless online banking experience. This transition enables decision-making at the speed of relevance and avoids duplication of effort encountered with tedious manual tracking.
A second tool in final stages of development is the Bonus Log Tool. Late last year, the 310th Space Wing, Schriever Air Force Base, Colorado identified how difficult it was to determine bonus eligibility and offered a tool to fix the problem.
Within six months, the Organizational Reform Team was able to work with the Air Reserve Personnel Center to identify the data elements needed to fix the problem. Since the data was already in the shared data environment, developers could quickly build an application that applies ARPC business rules to determine bonus eligibility.
Once launched, each Wing's Force Support Squadron and Career Advisor will be able to automatically generate bonus lists based on data from the Military Personnel Data System for the past 24 hours. Automating this process frees up time for ARPC staff to work on other issues. Most importantly, the tool will enable faster bounty payment processing, ensuring that every eligible Reserve Citizen Airman receives their bounty more efficiently and quickly.
Institutionalization of reform
Building apps like Finance BI Tool and Bonus Log Tool helps solve quiet issues. However, Reforming the Organization goes beyond tools. It also involves a cultural shift towards integrating more data-driven decision-making at all levels.

The Organizational Reform Team is committed to growing our workforce with enough versatile Citizen Reserve Airmen who can integrate basic data science into decision-making in their work centers. The team has developed a training catalog, most of which is free to access and can be found on the team's SharePoint site accessible through CAC.
The Air Force Reserve is reforming its organization by fundamentally changing the way we use data to make decisions to become a more ready force. The AFRC leads all other major data infrastructure maturity orders. Soon, leaders at all levels will have a common overview and shared understanding of resources and how best to allocate them.
BI tools will enable faster decisions on resource allocations, reduce training backlogs, and integrate more qualified Airmen into units. They will also provide better data to take care of these fliers with tools like the bonus log tool, which will help ensure everyone gets paid faster and more accurately.
Major General Matthew Burger, Deputy Commander of the AFRC, summed it up well when he said: "Data-driven decisions and corresponding analyzes are fundamental to ensuring that the AFRC remains a force provider of providing exceptional value and expertise to combatant commanders and on behalf of our nation It is paramount that we continue to develop and utilize the tools necessary to make appropriate resource and readiness decisions as we go. we need.
As the Air Force Reserve institutionalizes continued reform, we will also expand it by developing reserve citizen Airmen capable of capitalizing on Air Force Reserve modernization opportunities by increasing the automating and accelerating decision cycles allowing us to continue to provide accessible combat power to the nation… anytime, anywhere.