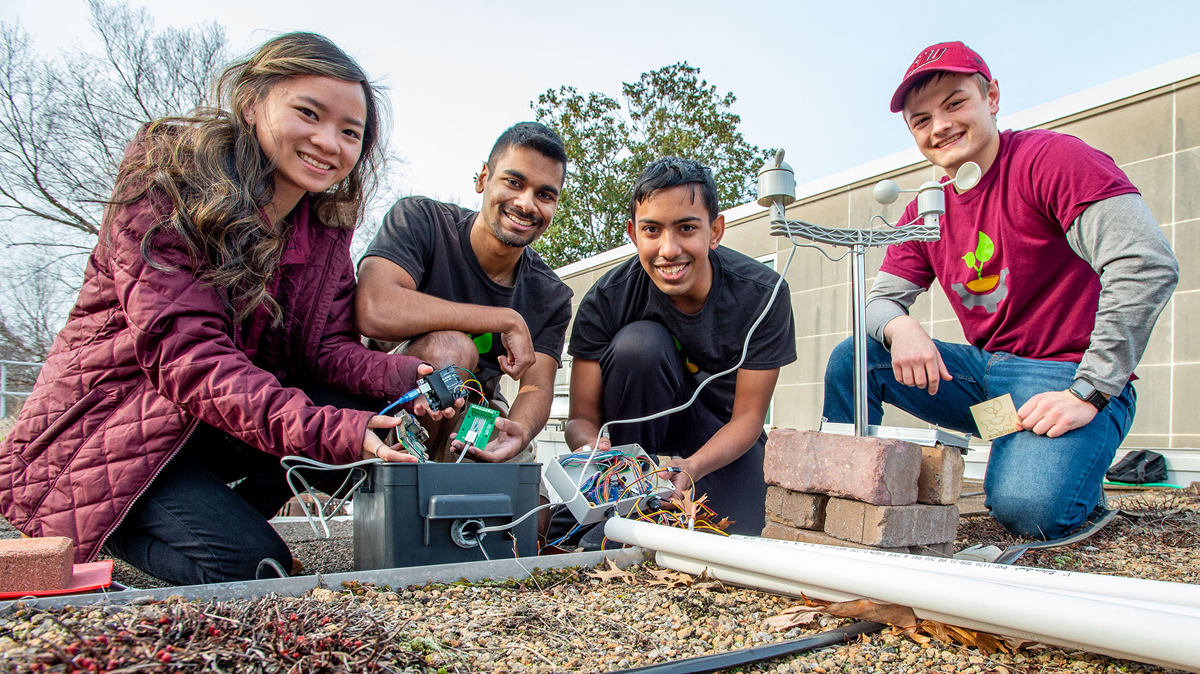 SIU student team finishes second in nation in Solar Cup competition
A team of students from Southern Illinois University Carbondale finished second in their US Department of Energy Solar District Cup game. The team designed a system integrating solar power, storage and other technologies for the Ohio State University medical campus. Team members pictured are, left to right, Olivia Sapp, Nelson Fernandes, Prem Rana and Aron Taylor. (Photo by Russell Bailey)
June 06, 2022
SIU student team finishes second in nation in Solar Cup competition
CARBONDALE, Ill. — A team of students from Southern Illinois University Carbondale finished second in their division at the U.S. Department of Energy. Solar District Cup Collegiate Design Competition.
The Solar District Cup challenges teams of multidisciplinary students, including engineering, urban planning, finance, and other majors, to design and model distributed energy systems for a campus or urban district. The Ohio State University's 2021-2022 competition tasked teams to design systems for its medical campus that maximize energy compensation and financial savings.
Kanchan Mondal, director of SIU's School of Mechanical, Aerospace and Materials Engineering, which helped organize the team, said SIU's high result in its first such competition demonstrates the quality of its education, dedication to student success, and commitment to sustainability, which are among the pillars of SIU's strategic plan, Imagine 2030.
"The energy and effort of students who have built and led successful teams speaks volumes about the faculty who are the indirect and often invisible force behind the headlines," Mondal said. "Our faculty is dedicated to engaging and stimulating students beyond the classroom through research and design activities. Taking on a national challenge such as the Solar Cup and preparing them for a successful career is a conscientious service to society.
Mondal singled out SIU student Nelson Fernandes, who graduated in May with a bachelor of science degree in mechanical engineering and served as project leader for the team. The Solar Cup team was a subgroup of the university Green Roof Team, which takes its name from an innovative sustainability project launched at the top of the agriculture building in 2010. It includes space for native plants, growing vegetables and flowers and conducting research while demonstrating the benefits of durable roofs.
Fernandes said the competition focused on the skills engineers and professionals need in the field, from initial feasibility and concept design to development plan and final design.
"During my time at SIU, faculty and faculty on campus provided me with incredible resources and opportunities that allowed me to explore my passions and understand my values ​​professionally and personally," said Fernandes, who , along with other graduates, turned the Green Roof team into a business. after graduating.
"Our company's mission is focused on developing teaching kits and courses based on the campus projects we've been working on for the past three years," he said. "All for the vision of a cleaner and more sustainable world by providing educational opportunities."
The SIU team, which also included students from two other universities, submitted their proposal for a photovoltaic roof system (energy generator) to the competition in late fall and were admitted to the final, with 34 other teams among the initial 65.
In addition to Fernandes, other members of the team include Stephen Schulte, IT senior from Mascoutah; Benton electrical engineering senior Olivia Sapp and Carbondale mechanical engineering junior Aron Taylor from SIU, as well as Gustavo Felicio Perruci, an SIU alumnus who is currently working on his doctorate at the University of Texas at Dallas. Team members also come from Case Western Reserve University and Broward College.
Team sponsors and advisors also include southern Illinois companies CH Electrical in Pittsburgh, Supplied Energy in Greenville, and AES Solar in Carterville.